A big hello from Cloud Berry Global Farm!
Our farm has grown a lot for the past one year and we are really grateful for that. We wouldn't have been able to achieve this without the love and support we received from each and every one of you.
Hence, we'd like to say a big thank you to you, our customers of Cloud Berry Global Farm!
After going through an exceptional hot summer this year, we're stepping into the season of strawberries.
With that said, Cloud Berry Farm's strawberries have been growing rapidly!
Here's the good news, Cloud Berry Farm's 2018 Strawberry Experience Program is officially starting in November, which is faster than a month as compared to last year!
Even though the price of strawberries has been expensive during this winter season, Cloud Berry Global Farm still strives to provide customers with the highest quality of strawberries! To express our utmost gratitude towards you, we are proud to present you with our freshly harvested healthy, juicy and delicious strawberries. We also have a variety of solid programs lined for our customers as we start our brand-new strawberry season! Aren't you excited for this?
Please come visit us at Cloud Berry Farm this strawberry season and witness our growth as we establish ourselves as a global farm well loved by everyone!
For group reservation, please make a call to us in advance.
November 24 marks the start of our season, however, in consideration of the number of strawberries available for picking, we will only be conducting class 3 and 4.
Experience Program Outline
Step 1: Introduction to Cloud Berry Farm
Step 2: Strawberry Picking and Cooking Experience Program
Step 3: Photo Time and Conclusion
Adult (middle school students and above) – Strawberry Picking + Strawberry Pack 18,000 won
Child (3 years old – 12 years old) – Strawberry Picking + Strawberry cupcake Making Program 18,000won
Pre-schooler (2 years old – 3 years old) – Strawberry Picking + Strawberry Omelette Making Program 10,000 won
Infant (2 years and below) – Accompanied by parents for the Strawberry Experience Program Free
Additional menu – Strawberry pondue Making Program 9,000won / Strawberry Tart Making Program 9,000won
Additional Menu
Reservation/Inquiry Contact Information
Representative Contact Number: 1800-5635 (for business-related/collaboration inquiries)
Customer Inquiries Number (Voice Call): 1800-5635
Operating Hours: 10:00 – 17:00
Lunch Break: 12:00 – 13:00
*Please refrain from contacting us outside of office hours. We'll do our best to answer your inquiries during the operating hours. Thank you very much!
1.Please send a message to us with the following format to the number/KakaoTalk ID/Facebook stated below. (Note: Only applicable for reservation made via message)
Contact Number:1800-5635
Name of Contact Person: Angeline Kang
Date of Visit: YYYY-DD-MM
Time of Visit: Class X (HHMM)
Number of People: Adult: X, Children: X (Please list down according to the program listed)
2.If you're Korean resident and have a Korean bank account, please transfer the total amount to the following bank account:
Nonghyup Bank: 301-0240-0844-51 (Bank Account Holder Name: 클라우드베리)
Note: Please make sure that the person making the reservation and the person making the payment are the same person to avoid any confusion.
3.After the payment and reservation have been received, we'll send you a confirmation message to confirm the reservation made.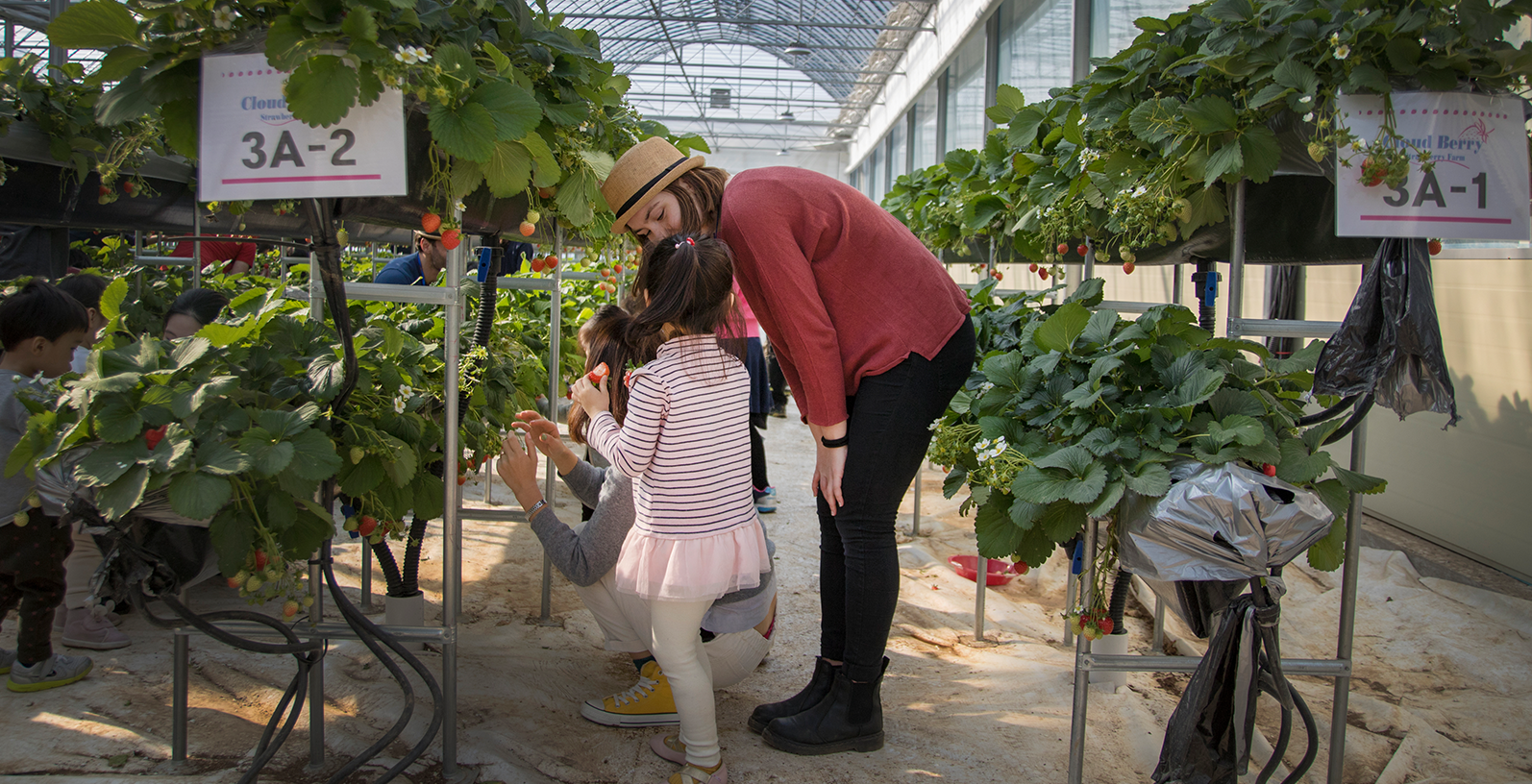 1)All children must be accompanied by one guardian during the experience program.
2)Please make sure that the person making the reservation and the person making the payment are the same person to avoid any confusion.
3)Deposit of the reservation must be made before the reservation can be confirmed.
4)Any cancellation of the reservation made on the day of the experience program will only be entitled to a refund of 50%.
Agriculture Convergence and Integration Industry
6 Industry Accreditation Certificate awarded by Ministry of Agriculture, Food and Rural Affairs
Accredited Agriculture Education Farm awarded by Rural Development Administration
Accredited Outstanding Experience Center for Dietary Life
GAP Accreditation (Outstanding Agro-fishery Product Management) awarded by Ministry of Agriculture, Food and Rural Affairs